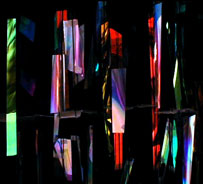 Lumia image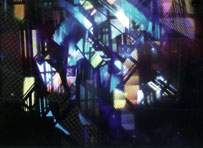 Lumia image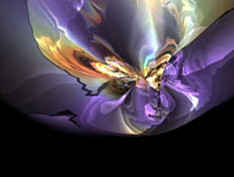 Sunset: Lumia image



George Stadnik, Primordial Soup, Green Violet Reflecto, Lumia Meditation
Logic and Emotion:
Is there a logic to be found in every painting and in every work of art, a design pleasurably acceptable to the intelligence, details gathered unerringly, in a coherent, rounded arrangement?—and is there that which moves a person, stirs him in no confined way, pervades him with the serenity and discontent of reality, brings emotion to him and causes it to be in him? — Eli Siegel
The design process required in controlling light is highly logical. With Digital Lumia it involves working with mathematical formulas that simulate light's behavior within a set of optical parameters. The decisions that are made, once the math is completed and executed, are purely emotional, visceral and sometimes completely uncontrolled accidents. Many times, the beautiful result comes from "playing" with the logical, mathematical simulation. It is a trial and error process that can go on indefinitely. The decision to stop and call a composition "complete" is the artist's ultimate decision, something which is intuitive and refined over time and through experience.
Lumia is the art of light. The founder of the art form, Thomas Wilfred, called Lumia the 8th fine art, and spent his life working to get the attention and recognition of the art world to accept his thesis. I was inspired to create Lumia by Wilfred's Opus 158 at the Museum of Modern Art in 1968. My hope is to make Wilfred's vision of Lumia as the 8th performance art a reality.
---
• Works on this site: Anuszkiewicz, Blaustein, Burckhardt, Di Cerbo, Hall, Henry, Hung, King, Kranjac, Koppelman, Longo, Michael, Rackow, Romano, Roth, Schmidt, Sloat, Stadnik
• Further Sources: Aesthetic Realism Online Library: TRO, Poetry, Reviews, Essays; Aesthetic Realism Consultations; Teaching Method K-12; Friends of Aesthetic Realism—Countering the Lies; Reviews/Critiques
• Discussions in the press & at the Terrain Gallery: Bernstein, Bruegel, da Vinci, Gee's Bend: Quilts, Guston, Homer, Indiana, Koppelman, Lange, Monet, Picasso: Dora Maar Seated, Picasso: Minotauromachy, Picasso: Guernica, Pollock, Pollock: Number One 1948, Potter, Rietveld, Sargent, Sloan, Terrain Gallery [1}, Terrain Gallery [2], Terrain Gallery [3], Velazquez, Vermeer