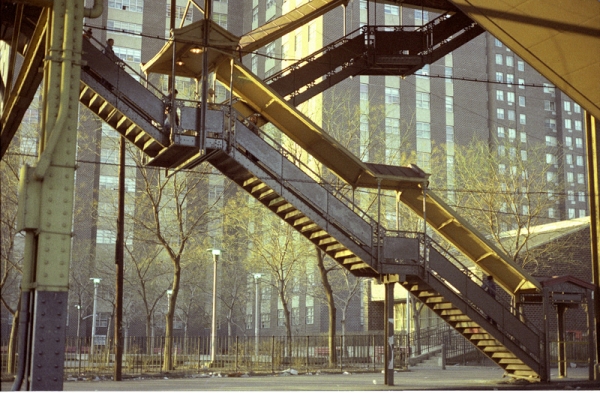 Louis Dienes, Elevated Stairs
In 1956 I was honored to have an "Art Conference" in which Mr. Siegel discussed my photographs. He looked at my photos, as he had earlier looked at my poems, with that comprehension, strictness, and great good will for which I am so grateful.
Aesthetic Realism guided me truly, enabling me to place the importance of both technique and emotion. My love for New York City and for the world grew as I walked about with my camera.
Elevated Stairs, Bronx, NY, 1981
The first thing that struck me about the stairway leading up to an elevated station in the Bronx, was the quality of golden late afternoon sunlight on old rusting iron girders and plates, and similarly colored leaves behind. I saw a drama of verticals, horizontals and diagonals in the stairway juxtaposed with the neat walls of the apartment house directly behind, the one open and the other closed, yet both joined, in their difference, by that afternoon sunlight.
—LD