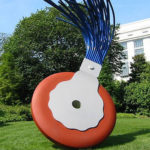 American Realism to Pop Art: What's Going On? by Donita Ellison. Presented at the Pennsylvania Academy of the Fine Arts. "The Pop Art sculpture of Claes Oldenburg challenges our confined notions of objects that we use without really 'seeing' them. Oldenburg makes hard things soft, small things large, and turns things upside down—all to make us see them with more power and respect."
---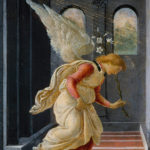 Sandro Botticelli
Botticelli and What Will Make You Happy by Carrie Wilson. "About 1490  Botticelli painted this Annunciation scene, now in the Metropolitan Museum of Art. The museum catalogue describes this small panel—it is only 9 3/8" by 14 3/8"—as 'One of the jewels of fifteenth-century Italian art.' As I thought about why I care for it so much, I came to see it makes a one of opposites on which our immediate and lasting happiness depends: the self separate and in relation, repose and energy, heaviness and lightness."
---

Pieter Bruegel the Elder
How Can We Be Composed?: Bruegel's Hunters in the Snow by Nancy Huntting. "I love this painting, Hunters in the Snow, by Pieter Bruegel, the great Flemish painter of the 16th century. Bruegel shows a vast, snow-covered landscape….With all its diversity and activity, surprisingly, a person feels composed looking at this painting—and I'll try to show why."
---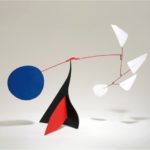 Alexander Calder
Alexander Calder: Art Answers the Questions of Our Lives! by Marcia Rackow. "One of the most popular artists of the 20th century, Alexander Calder revolutionized sculpture, added a new dimension to it—motion! He was, said Eli Siegel in his great lecture on sculpture, Weight As Lightness, '[one of] the people who just play topsy-turvy with the older notions of sculpture'….Calder's work puts together joy and depth, lightness and heaviness in a way that makes for what people everywhere are yearning for."
---

Jean-Baptiste-Simeon Chardin
Chardin's Soap Bubbles—and How I Saw the World Has Meaning by Lore Mariano. "I learned how heaviness and lightness, the moment and what is lasting, are beautifully one in this painting, and that these opposites could be better composed in my life. I began to feel the whole world had meaning when I saw that opposites I had used to feel the world didn't make sense were the same opposites that, seen as one, make for beauty."
---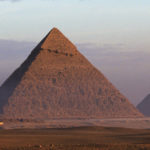 Egyptian Art
Can We Be Serious & Lighthearted at Once?—What We Can Learn from Egyptian Art! by Carrie Wilson." In elementary school I loved studying the pyramids—the way they rose from that wide base to that pointed top, so grandly and mysteriously, out of the sands of Egypt….I didn't know that the reason I loved the pyramids was because they did what I wanted to do—that what people for four thousand years and more have wanted, is expressed in their form."
---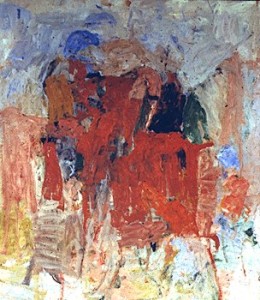 Philip Guston
Philip Guston: The Man, His Life, and His Work by Dorothy Koppelman. "I have been greatly affected by the work of Philip Guston and I think his drawings, his paintings, and what he says about himself can be a means of understanding some of the largest questions artists, and all people have about ourselves."
---

Winslow Homer
We Can Learn about Ourselves from Winslow Homer's The Gulf Stream by Daniel Reiss. "The tumultuous sea and whitecaps, the sharks, broken boat and waterspout in the distance on the right—all have motion and turbulence. Yet the man seems strangely at ease as he rests on his elbow, looking out. Homer's composition shows that both man and world are a relation of 'repose and energy, calmness and intensity, serenity and stir.'"
---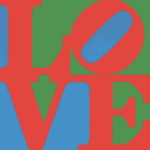 Robert Indiana
What Are You Looking for in Love? Robert Indiana's LOVE by Ken Kimmelman. "When, in the 1960′s, I first saw Robert Indiana's LOVE, it really took me, as it did people across America—it was the design for the biggest selling US postage stamp ever issued….The opposites central in Robert Indiana's silk-screen print, repose and energy, are, I have learned, crucial in love."
---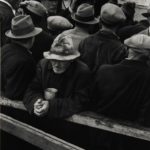 Dorothea Lange
"What Does a Person Deserve?": The Answer Found in a Great Photograph by Dorothea Lange by David M. Bernstein. "I think Dorothea Lange's 1932 White Angel Breadline is one of the great photographs in this world. Its power, its beauty, its message, can be understood, felt more valuably, deeply through this principle of Aesthetic Realism….'All beauty is a making one of opposites, and the making one of opposites is what we are going after in ourselves.'"
---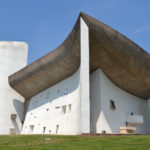 Le Corbusier
Le Corbusier & the Debate in People between Coolness & Warmth by Dale Laurin, RA. Presented in Greece at the 2013 Conference on Architecture at the Athens Institute for Education & Research. "At the age of 63, Le Corbusier surprised many critics by designing a building that seemed so free, so warm….Ronchamp is not aloof from the earth, but rises organically from it."
---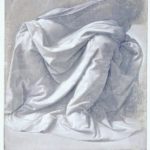 Leonardo da Vinci
Is Art Really & Urgently About Life?: The Drawings of Leonardo da Vinci by Marcia Rackow. "Art has been loved, treasured, and the museums these days are overflowing with people hoping to see beauty in this world—and be moved by it, as was seen in the show at the Met, Leonardo Da Vinci: Master Draftsman. But people haven't known what Aesthetic Realism… explains—the urgency art has for our lives!"
---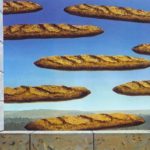 René Magritte
The Surreal Is Everyday: The Art of René Magritte by Chaim Koppelman. "Men and women all over the world, including artists, will love Eli Siegel as I do for the absolutely new and crucial distinction he made between two kinds of imagination: one that is for the world and art, and the other that is against both….This…is the means for understanding what was central in the life and work of René Magritte."
---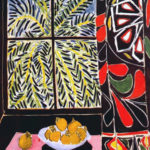 Henri Matisse
Henri Matisse—or, The Technique of Art & the Questions of Life: What's the Relation? by Marcia Rackow. "Henri Matisse, one of the great painters of the 20th century,­ shows we need to be affected by the world—to see things freshly in order to really express and be ourselves. He wrote: 'The effort needed to see things without distortion takes something very like courage…'"
---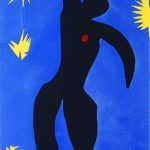 Henri Matisse
The Joyous Drama of Outline and Color: Icarus by Henri Matisse by Marcia Rackow. "Looking at Icarus, one of the simplest and most moving plates in Jazz, we can see the subtlety of Matisse's art, his love for color, and its meaning to him. His book Jazz, he said, 'was the closest thing to an autobiography.'"
---

Claude Monet
Does Art Answer the Questions of Our Lives? by Marcia Rackow. "In a landmark radio interview, Mr. Siegel described the great, new thing Monet accomplished, when he said: 'Monet made the vague, the uncertain, the trembling triumphant. We have a tendency to give edges and tidiness to reality when, it could be felt, reality says: I am not that tidy. '"

Berthe Morisot
The Technique of Art & the Questions of Life—What's the Relation? by Marcia Rackow. "As I studied the work of Berthe Morisot I was taken by the energy and motion in it, at one with its form and repose. And I was moved to see how deeply these opposites of energy and repose affected every aspect of  her life….In the very technique of her paintings, she solves a question that has troubled people greatly, as it did me, and the artist herself: restlessness.
---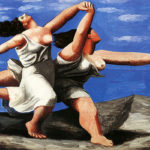 Pablo Picasso
Can We Have Pleasure & Self-Respect at Once?: Picasso's Two Women Running on the Beach by Devorah Tarrow. "When I first saw Picasso's Deux femmes courant sur la plage at the Museum of Modern Art, I thought it was wonderful, with those massive bodies in swift, ecstatic motion. I felt also there was great respect…." 
---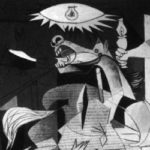 Pablo Picasso
Art Opposes Injustice: Picasso's Guernica—For Life by Dorothy Koppelman. "It is one of the great purposes of art to make the ugliness of things bearable, and through the 'indissoluble presence of relation' to show those things as continuous with what we see as beautiful. Picasso's Guernica has done that with an impact that has affected the world."
---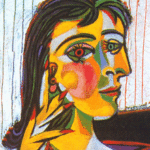 Pablo Picasso
Picasso's Dora Maar Seated—or, Full Face and Profile: How Do They Show the Self? by Meryl Simon. "It is likely Dora Maar could feel, as I did, like a different person looking at herself than she did looking at the world, but Picasso, as he depicts her simultaneously facing us, and looking within, shows a coherence among various attitudes in Dora Maar, and that is one reason I feel this portrait is so kind."
---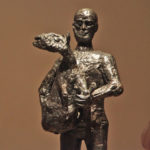 Pablo Picasso
Picasso's Man with a Lamb: Opposites as One by Dorothy Koppelman. "Looking at Picasso's Man with a Lamb in 1945, shortly after the figure arrived in New York, I was so struck by the impact of this man, roughly hewn, heavy, mute, coming towards us over many centuries….The artist has given us man, at the beginning both raw and noble, a brute with immense kindness."
---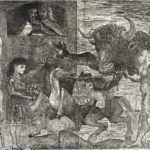 Pablo Picasso
Power and Tenderness in Men and in Picasso's Minotauromachy  by Chaim Koppelman. "Power and tenderness, opposites that so often fight in men, are made one beautifully, richly, movingly both in subject matter and technique in Picasso's 1935 allegory, the Minotauromachy."
---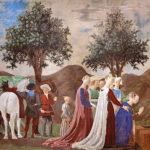 Piero della Francesca
The Frescoes of Piero della Francesca: Their Meaning for People Now by Dorothy Koppelman. First presented at the Piero della Francesca Foundation in Sansepolcro, Italy. "What is the large meaning of this work,The Queen of Sheba Adoring the Holy Wood? I see every detail of it to be centrally about two opposites—high and low, or pride and humility—opposites crucial in every person's life."
---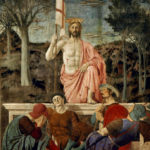 Piero della Francesca
Gli affreschi di Piero della Francesca: il loro significato oggi di Dorothy Koppelman. In onore della celebrazione del 600 anniversario della nascita di Piero della Francesca, la Terrain Gallery è fiera di riportare il testo della importante Conferenza data alla Fondazione Piero della Francesca di San Sepolcro in Italia nel 2007.
---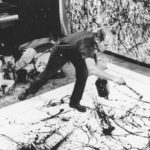 Jackson Pollock
Jackson Pollock—and True and False Ambition: The Urgent Difference by Dorothy Koppelman. "I shall be talking tonight about my life, what a woman learned in Aesthetic Realism Consultations, and about the famous 20th century American artist whose works, as one critic put it, 'embody the supreme level of pictorial ambition'."
---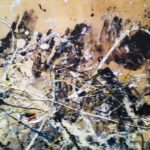 Jackson Pollock
Jackson Pollock's Number 1A, 1948; or, How Can We Be Abandoned & Accurate at the Same Time? by Lore Mariano. "From the moment I first saw them, I felt Jackson Pollock's action paintings had something I was yearning for—something deeply composing and satisfying to me. I learned from Aesthetic Realism that these paintings have something every person is looking for."
---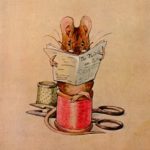 Beatrix Potter
Wonder and 'Matter-of-Fact' Meet; or, The Imagination of Beatrix Potter by Marcia Rackow. "For over a century, Beatrix Potter's art, her wonderful imagination have affected children and adults all over the world. There's hardly a person who doesn't know The Tale of Peter Rabbit! Her pictures and stories while charming and delightful, are also deep — and they show something vital and thrilling about imagination which every person, every parent, every child needs to know." [Reprint in PDF]
---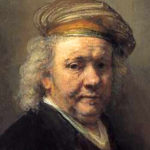 Rembrandt van Rijn
Pride and Humility in Ourselves and in Rembrandt's Last Self-Portrait by Barbara Buehler. "I felt, as I have learned many people do, both superior and inferior, and I didn't see there was any relation between the two. Then I came to see, through my study of Aesthetic Realism, that Rembrandt's painting, in its technique, answered one of the largest questions of my life. In this painting, as he looks at himself, Rembrandt is both modest and proud, and we feel his humility is the same as his grandeur."
---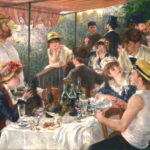 Pierre-Auguste Renoir
What Can Art Teach Us about Love?: Renoir's Luncheon of the Boating Party by Carrie Wilson. "Every woman wants to feel proud of the way she sees a man. Every woman wants to feel that love is beautiful in the same way as she can feel looking at a painting: "This is beautiful!" But we haven't known what would make us able to."
---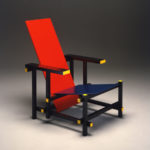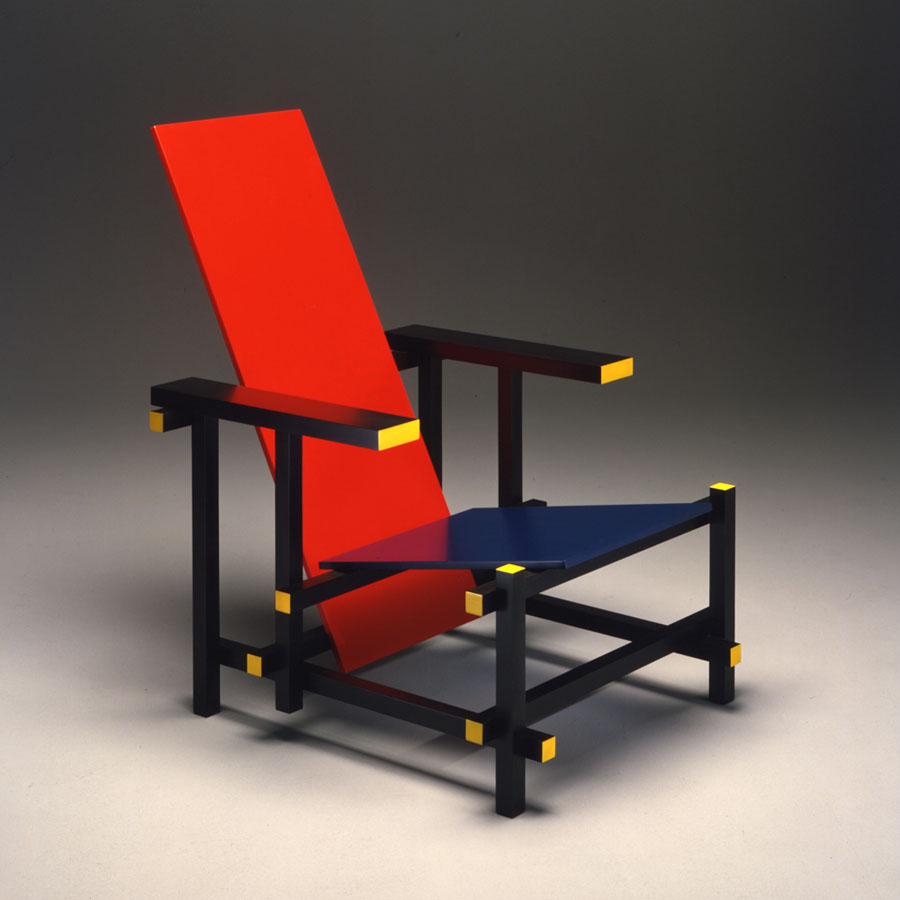 Gerrit Rietveld
Gerrit Rietveld's Red and Blue Chair, and What I Learned about Rest and Motion in Myself  by Anthony C. Romeo, RA. "What do we feel as we sit in our favorite chair? Do we like it because it supports us, or because it consoles us? Do we feel alert or sleepy? Rietveld's chairs represent something Aesthetic Realism taught me: that we don't get to true repose by putting the world aside."
---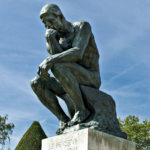 Auguste Rodin
Auguste Rodin; or, The Technique of Art & the Questions of Life—What's the Relation? by Donita Ellison. "Every person has the question of how to make sense of ourselves as strong, powerful, and also considerate, kind. These opposites are dealt with beautifully in the work of Rodin in a way that makes for a large emotion of respect for reality, and can give us hope about our own individual confusions."
---

John Singer Sargent
Sargent's Madame X; or, Assertion and Retreat in Woman by Lynette Abel. "In A Woman Is the Oneness of Aesthetic Opposites, Eli Siegel writes about 15 pairs of opposites in women. This is what he writes about Advancing: Recessive: 'Towards something is in the feminine mind importantly….But how much retreat is in woman, too, the unseen sinking, the leaving for a previously chosen background.' I think Sargent's Madame X is an opportunity to study these opposites."
---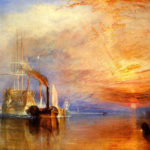 Joseph Mallord William Turner
Light and Dark, Hiding and Showing in Joseph Mallord William Turner by Dorothy Koppelman. "Magnificently, in the paintings of Joseph Mallord William Turner there is a light so blazing and so deep, one can almost be completely absorbed—and always, too, there is that blackness. I am exploring the meaning of those opposites—Light and Dark, central not only in the work, but in the life, the very self of the artist."
---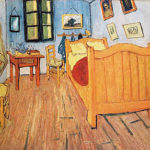 Vincent Van Gogh
Van Gogh's Bedroom at Arles; or, The Outside World Is Friendly by Dorothy Koppelman. "The wall is alive with the motion of inside becoming outside, outside changing places with inside. The fact that this is a bedroom makes this oneness of inside and outside all the more meaningful….The message is: The outside world is with you even as you sleep."
---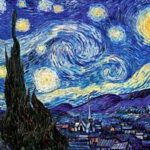 Vincent Van Gogh
Can We Be Expansive and Contained Like Van Gogh's Starry Night? by Miriam Mondlin. "Van Gogh has painted each star as he himself and every person hopes to be: a center—as Eli Siegel explained to me—and an illimitably flexible circumference….In this night scene, light is within and comes forth in everything."
---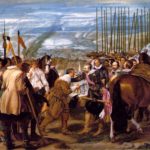 Diego Velázquez
What Will Make Us Truly Proud of Ourselves? A Study in the Art of Diego Velázquez  by Dorothy Koppelman. "I am going to talk about what I learned which has had such a tremendous effect on my work and myself. I shall also talk of the 17th century Spanish painter, Diego Velázquez whose study of objects and great paintings of the Spanish court put together those opposites without which, I have learned, there would be no art: pride and humility."
---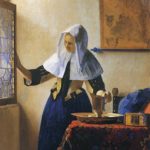 Johannes Vermeer
Vermeer's Young Woman with a Water Pitcher—and What Men and Women Are Hoping for in Marriage by Julie and Robert Jensen. "Aesthetic Realism shows that the questions of marriage are aesthetic questions, answered in art. As we look at Jan Vermeer's Young Woman with a Water Pitcher we will be showing how…"
---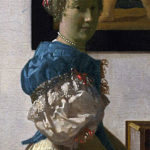 Johannes Vermeer
What I Learned about Kindness: Looking at a Painting by Vermeer by Ruth Oron. "I will describe what I learned about kindness from the philosophy Aesthetic Realism….My consultants asked me: 'Do you think in this painting, Young Woman Standing at a Virginal, Vermeer was kind?—was he kind to the objects in the room—say, the window? Was he thinking deeply about each object and their relation to each other?' I was surprised, but I felt, Yes."
---

Edouard Vuillard
Edouard Vuillard; or, How a Woman Wants to See and Be Seen by Dorothy Koppelman. "I am considering the work of Edouard Vuillard as a lesson in paint showing how deeply an artist has looked at women and their lives. The early paintings by Edouard Vuillard put together the opposites in every woman's life—the intimate and the large, closeness and distance, thought and motion or energy and repose." Printed in American Society of Contemporary Artists Newsletter, Winter 2012-2013.