I have come to care very much for this painting by Pablo Picasso titled Dora Maar Seated.  Dora Maar was a photographer and took photographs of Picasso's work, including his Guernica. Together she and Picasso studied printing with Man Ray, who, in 1936, took this photograph of her: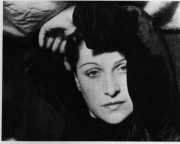 Man Ray uses her black velvet sleeve to bring out the mystery and abstraction in the beautiful face of Dora Maar. Picasso goes even further in his 1937 painting in showing that the world is a part of this woman he cared for.
I have learned from Eli Siegel and Aesthetic Realism that art makes a one of the very opposites that we are trying to put together, and so, Art Answers the Questions of Our Lives. A beginning question in my life that I am learning more about through studying this painting is one Mr. Siegel asked me in an Aesthetic Realism lesson in 1971. Mr. Siegel saw that while I had many interests, I did not feel like an integrity because I felt as people often do, that the person who thought about the world outside myself, the person who had studied anthropology, was not the same as the person who thought about herself. He asked me: "Can we make a coherence out of our attitudes?" I had not thought so. The study of Aesthetic Realism has made it possible for me now to answer Yes we can!
It is likely Dora Maar could feel, as I did, like a different person looking at herself than she did looking at the world, but Picasso, as he depicts her simultaneously facing us, and looking within, shows a coherence among various attitudes in Dora Maar, and that is one reason I feel this portrait is so kind.
She is presented both profile and full face. Then, one eye is shown looking inward, toward herself. The eyelashes of this eye are painted to emphasize this inward direction, yet the pupil looks straight out. The other eye, which Picasso has surprisingly painted red, looks out at the world and us; while the red shows intensity, the curves and symmetry of this eye give it serenity.
Picasso was the first painter to show two aspects of a face in this form, simultaneously, and it has an important meaning for our lives. In Self and World, Mr. Siegel writes about profile and full face in relation to the self of every person:
In keeping with notions that have been present all through history, the human being does have two sides, just as he has a profile and a full face. These two sides, it is true, make up a one; yet in the same way as you get a different impression from the side view of a face from that got from a full view, so, though these two sides of self make up a one, they can have different effects.

Whether one side of self or the other is in play, the purpose is, in a sense, the same. A person is trying to please himself. But one side of a person wishes to please himself by thinking of himself as apart from reality as a whole; the other side wishes to see the person as related to, and part of all reality.
I've learned from Aesthetic Realism that when we please ourselves by thinking of ourselves only as apart from reality as a whole we have to feel ashamed because we have separated ourselves from the world we came from.
Mr. Siegel asked me in the lesson of 1971: "Do you see the world as that which expresses you or as a foreign body?" I said I see it as a foreign body. In Dora Maar Seated, Picasso shows the world is that which expresses a person. The colors of the world: white, yellow, red, blue, green, pink and black are all in her face. A person and the world are friendly. In the cheek, a delicate pink apple with its small green leaf under the eye surprises us. And we can see a small yellow lemon within the apple—which I think represents the opposites of sweet and sour that can be in a woman. There is a logic here that allows us to accept this "foreign body" as the cheek just as we accept the different views, profile and full face, as one face.
The colors and forms of the body also surprise us. It is difficult to distinguish between the chair and Dora Maar. Her arms are as dark and flat as the chair's, and they have the same shape. This is playful and also deeply true. The back of her chair and Dora Maar's torso form one dark rectangle with a triangle at its base. The red triangular shape is her red plaid skirt. Arising from the point of the triangle, are radiating black lines which look like a bouquet in front of and within the abstract shapes which are her breasts. These purple and green forms are a relation of sphere and angle. They represent the femininity of this woman as lush, full and also strict and thoughtful.
We see this also in the way her sharp red-painted nails are placed against the soft curve of her cheek. I think Picasso wanted to depict in this way the lively desire in a woman to look beautiful and to be thoughtfully self-critical at the same time.
The study of Aesthetic Realism is enabling me to see the world as that which expresses me, and to see that this world, like myself, is an aesthetic oneness of opposites—a world I can honestly like.
This talk was originally given as part of the series at the Terrain Gallery titled "Aesthetic Realism Shows How Art Answers the Questions of Your Life."